T-BALL RULES
---
---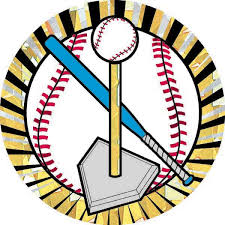 ---
A complete game will consist of at least 5 innings but no more than 7 innings. No new inning will start after 8:00pm (Coaches can shorten game if both agree)

All batters will bat using a tee. (No Coach Pitch will be allowed)

All batters will get a maximum of 5 swings to get the over the "Fair ball line" (discretion by the coaches can be given for the fair ball line)

If no successful contacts after 4 attempts, the batter will run to first base on their last or 5th swing.

Coaches will umpire their own teams at bat.

Each team will bat through their lineup each inning disregarding the number of outs.

If an out is made the player called out will return to the dugout, but outs will not be kept.

The score will not be kept.

Fielding - all players present will play in the field.

Base Distance: 50 Feet

Pitching Distance: 40 Feet

Coaches must insure that the game ball is an approve T-Ball

Fair Ball line - coaches should have an imaginary 10-foot line, measured from the back of home plate from the 1st baseline to the 3rd baseline in front of home plate. A batted ball must go past this line be considered a fair ball. This is to ensure no bunts and the safety of the players

Defensive Safety Line: An imaginary line that begins 20 feet (half way) in front of first base on the foul line, then extends to the pitching rubber and from the pitching rubber to 20 feet in front of third base on the foul line. Infielders must stay behind this line until the ball is hit.

All batters must wear helmets while batting and while on deck for their bat.

All runners shall not advance bases once the opposing team has possession of the ball in both the in field and out field.
Runners will not advance on overthrows.